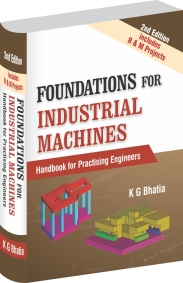 First Edition totally sold out. Few copies available only at www.amazon.com.
Second Edition released mid September 2011.
Discover how Machine Foundation design can help improve the life of your machinery and enhance your business.
>> LEARN MORE

Dr K G Bhatia has received Honorary Engineer award from IISEE, Japan for his contribution in Earthquake Engineering and related areas.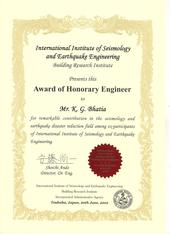 SCHEDULED TRAINING
5-Day Specially designed Training Program on Machine Foundation Design with Exhaustive Hands on Training for Foreign & Indian Participants
Next 5-day specialized training program:
Dates: 18th - 22nd May 2015
Venue: Hotel Premier Inn
Location: New Delhi
Previous International Machine Foundation Training Held: 12th - 16th May 2014, New Delhi, India
Broad Coverage: Machine Vibration; Steady State and Transient Response; Vibration Isolation; Block and Frame Foundations; Use of FE/CAE Packages for Design; Case Studies and Best Practices with exhaustive Hands-on-Training.
Target Audience: Foundation Design Engineers.
Registration and Details: CLICK HERE
IN HOUSE TRAINING Details: CLICK HERE
+ Structural Dynamics
+ Seismic Qualification
* Plant
* Structures
* Equipment
+ Machine Foundation
+ Vibration Isolation
+ Earthquake
+ Wind
+ Blast
+ Impact

>> ABOUT



Dr K G Bhatia